On April 27, 2016, Ministry of Science and Technology High-tech Research and Development Center organized experts in Ningbo Zhejiang Province to check and accept the project of " Fiber Optic DC Current Sensor" undertaken by Comcore. This project was a sub-project of "Key Technologies and Applications of Flexible HVDC Transmission Devices" led by China Southern Power Grid Company Limited and was independently undertaken by Comcore. The acceptance meeting was presided over by Director Shuoyi Chen of High-tech Research and Development Center, and Liu Jianming, director of the Science and Technology Department of State Grid Corporation of China was appointed as the expert group leader. The expert group listened to the detailed report of Dr. Huang Yong, the head of the research group and checked the acceptance materials. Finally, after careful study and discussion, the expert group believed that the project had completed the research contents and assessment indicators stipulated in the task paper and unanimously agreed that the project passed the acceptance test.
On July 18,2017, Comcore received the Acceptance Concluding Statement of Subject issued by the Ministry of Science and Technology of China. So far, the project has been formally accepted.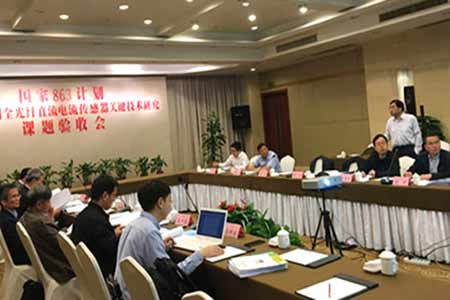 For measurement requirements of flexible DC system in complex electromagnetic environment, a spun high birefringence elliptical polarization-maintaining fiber was developed; The temperature dependence and polarization dependence of polarization-maintaining fiber coupler were researched and a 3×3 special polarization-maintaining fiber coupler was developed; A fiber optic current sensor based on reflective interferometric optical path structure was developed with accuracy level of 0.2. Finally, the developed Fiber Optic DC Current Sensor was put into operation in Lingzhou Converter Station of Lingzhou-Shaoxing ±800kV UHVDC project.
The acceptance of this project not only affirms the scientific research achievements of Comcore in the field of current sensing optical fiber, polarization-maintaining fiber coupler and FOCS, but also affirms the cooperation mode of collaboration and innovation among the involved enterprises in this project. In the future, Comcore will continue to give full play to our technological advantages in the above fields, deepen cooperation and exchanges with enterprises, and promote the innovation and development of optical fiber sensing technology.